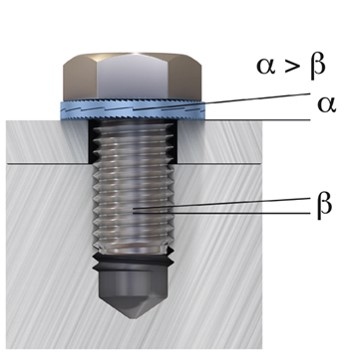 How does it work?
During installation, the radial teeth cause one half of the Washer to be seated to the bolt or nut, while the other half is seated to the joint material.
When exposed to load or vibration, the bolt or nut will attempt to loosen. Since the radial teeth are seated to the mating surfaces, any movement in the loosening direction is forces between the cam.
Because the cam angle (α) of the Washers is greater than the thread pitch angle (β) of the bolt, a wedge effect is created by the cams, preventing the bolt or nut from rotating loose. Clamp load is maintained and the joint remains secure.
Specification and Materials
Carbon steel like SK5, SK7 etc, specification data
Surface treatment: Dacromet, Geomet, Zinc flake, Delta and so on.
Stainless steel like SS304, SS316 etc, specification data
Surface treatment: Natural color or customized as per customers'requirements.
Characteristics and strengths
Maintains clamp load in high vibration and load applications, thereby protecting the security of the joint
Heavy duty self-locking design
For use with bolts up to Class 12.9,Grade 8
Available in SCM435/SAE4130 Alloy Steel,316L Stainless Steel, and 254 SMC Stainless Steel
Provided in preassembled glued pairs
Easy to install and remove with standard tools
No retightening needed after installation
Reusable-will not distort threads on bolt
Vibration proof according to MIL-STD-1312-7/DIN 25201
Can be used reliably for joints with short clamp length
Secures joints with high and low preloads
Removal and reuse
Removing the Washers requires no special tools or procedure. Simply loosen the joint in the normal method and check the Washer to ensure cam faces disengage.
While the Washers are typically reusable, it should always be inspected for deformation or excessive wear before reuse. If the Washers appear deformed or heavily worn, discard and use a new pair.
Quality
Each the Washers manufacturing facility is led by a team of seasoned engineering professionals charged with ensuring all products meet stringent quality requirements. Our facilities are certified to ISO 9001-2015, IATF16949, and utilize high quality testing equipment, including tensile testing, accelerated corrosion salt spray testing machines, torque testing, standard measurement and gauging equipment.
The Washers are manufactured in a facility which strictly adheres to multiple ISO certification standards, and are thoroughly tested through the production cycle to ensure a high level of quality.